ABOUT US
DanceWize NSW is a program of NSW Users and Aids Association, the leader in peer-led harm reduction in NSW. DanceWize NSW is funded by the NSW Ministry of Health to attend NSW music festivals to increase the safety of festival patrons through credible and evidence based information about safer partying and delivering a range of peer-delivered prevention and harm reduction services including crowd care services (e.g. water, sunscreen, information) through to hosting a dedicated care space to look after festival goers who are experiencing difficulty or simply need a time out.
DanceWize NSW works closely with festival promoters, emergency medical, police, and security service providers to support a coordinated, safety-focussed approach. As part of our 2-year trial program we have developed a steering committee to assist with communication and service development and includes members of NSW Ambulance, NSW Health, Harm Reduction Victoria, NSW Police Drug Policy, Mothership Events, and Ranwood Solutions (specialist onsite festival emergency service provider) who advise our team on effective solutions, best practice and general encouragement and support in program delivery as we establish ourselves at events and festivals in the state of NSW.
The DanceWize NSW team numbers over 150 NUAA staff members and volunteers. Key NUAA team members are:
DanceWize NSW team:
Erica Franklin
Georgina Bell
Adam Smith
NUAA Management team:
Mary Ellen Harrod
Charles Henderson
Our KPE Leadership Team (Shift Leaders) are: Jacinta Bourne, Lisa Andreyeva, Erica Franklin, Cam Benson, Cameron Dalrymple, Shahrad Salimian, Matt Dibbayawan, Chris Eassey, Bekk Moffitt, Alice Pierce, William Swann, Adam Beres and Jason Gregory-Jones.
Our volunteers, Key Peer Educators (KPEs) are what makes DanceWize NSW so effective - stay tuned for their biographies!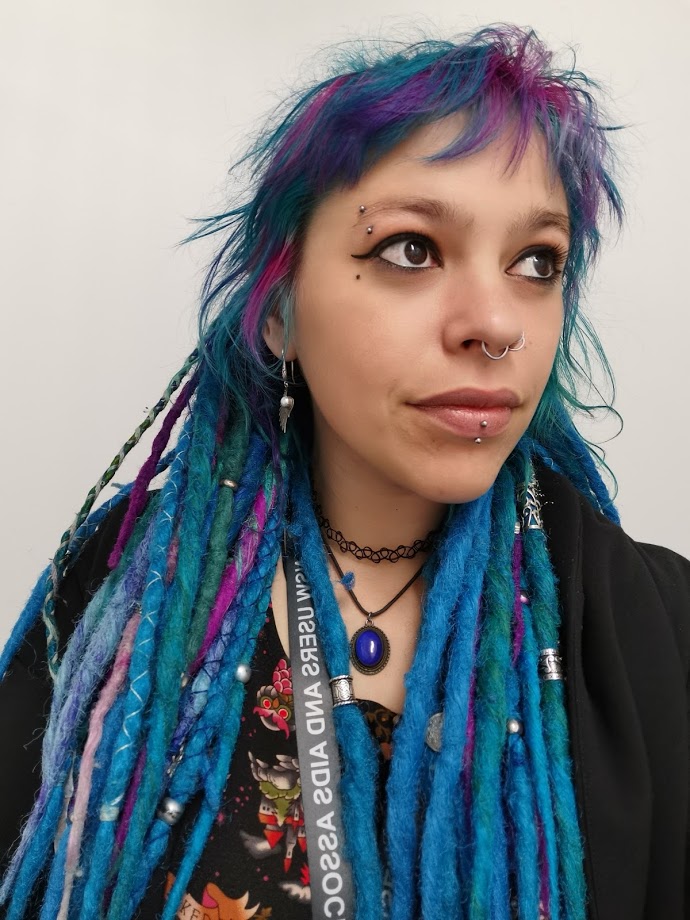 Erica Franklin has been a DanceWize NSW Coordinator since June 2019, and part of its leadership team since the program's inception in 2017.

Erica has extensive experience working in drug and alcohol harm reduction. She has worked at the National Drug and Alcohol Research Centre, Kirketon Road Centre, Medically Supervised Injecting Centre, RUSH Needle and Syringe Program and Redfern Harm Minimisation Program. Her passion for harm reduction began when studying Criminology and Criminal Justice. She graduated her honours degree with distinction after completing her thesis on why people are motivated to take novel psychoactive substances.

She has been attending festivals for over 13 years, and loves listening to punk, psytrance, metal, and 90s-2000s pop hits. She has also been an active member of Reclaim the Streets and has helped to organise community events and 'protestivals', such as Demand Action – Pill Testing Saves Lives (2019), Ruff Justice (2018), Keep Newtown Weird and Safe (2018), Love Triumphant (2017), and the Festival for Marriage Equality (2017).

When she isn't at a festival or live gig she is playing video games or dungeons and dragons*.
*Level 28, Human Cleric, Neutral Good
Strength: 0
Dexterity: -1
Constitution: +1
Intelligence: +2
Wisdom: +2
Charisma: +3
Gina Bell joined NUAA in June 2019 as a Coordinator of DanceWize NSW with much respect for the program from seeing it in action at some of her favourite events.
Gina has a background in social work, currenlty studying a Masters in Social Work at the University of Sydney. She has held roles in disability, mental health and suicide prevention since 2012, working with caseloads of individuals and families to promote wellbeing and empowerment, within a range of challenges including domestic violence, trauma, disability, homelessness, suicide and oppression.
Before joining NUAA, Gina was coordinating youth and parent online communities and managing volunteer teams to deliver effective peer support. Gina is passionate about utilising the power of stories and the expertise of lived experience, to support and build strong communities.
Gina loves listening to live music and going to festivals and community events –believing that having time to be playful and expressive with your community is an important part of wellbeing. Gina also loves engaging in social justice and feminism, and is passionate about environmental justice – wanting to see humans and the planet flourish.
As a Coordinator for DanceWize Gina is able to use her love for partying and community, with her skills in volunteer management, mental health, and crisis support, to promote safety, human rights and dignity for drug users.
Adam Smith has been a DanceWize NSW Coordinator since May 2019. Prior to this role, Adam had been a casual employee, a volunteer since 2018, and a recipient of support in DanceWize care at a festival in 2017.

Adam has worked for a variety of charities, from environmental organisations to community services. Until now, his all time favourite role had been as a pizza boy.

Adam loves partying, doofs and festivals and enjoys the self-expression and weird times for play they offer. He finds his lived experience in the community helps him relate to the community he loves and he's stoked to be working with the amazing DanceWize team.
Mary Ellen Harrod joined NUAA as CEO in January 2015. At NUAA, and in her previous career as a researcher, Mary has been committed to community engagement and the belief that empowering marginalised communities is fundamental to addressing issues of health equity. Her interest in peer education and preventing harm at music festivals stems from her love of live music, her role as the mother of a young festival attendee and her commitment to bringing peer education and engagement to diverse communities of people who use drugs. The DanceWize NSW project arose from multiple discussions with Jenny Kelsall, the late and much treasured EO of Harm Reduction Victoria (HRVic). Jenny's generosity and commitment to seeing the highly successful HRVic DanceWize model replicated across the country resulted in the establishment of the NSW project.
You can view Dr. Harrod's CV here and read more about her work here, here and here.
Charles recently joined NUAA as Deputy CEO at the start of 2018.
His entire career, the core of himself, has been dedicated to working for the improved health and human rights of drug users, mostly in the arena of injecting related drug use, so often the hidden group bearing the fullest, most fearsome brunt of societal attitudes.
Previous to NUAA Charles gained experience in Australia as the Programs Manager/Acting EO at Harm Reduction Victoria and got to understand and develop his skills in the festival space with DanceWize being an integral component of work there.
Currently part of his role in the NUAA family is to oversee the incredibly important (2-year initial contract with the Ministry of Health) efforts of DanceWize NSW and particularly the Coordinators Jessie and Dan.
Like any service NUAA provides, it is very much geared within a humane, non-judgemental approach, the cornerstone of Harm Reduction and a NUAA tenet: care with empathy, strength through unity and respect through lived connection.
He is proud and loud when it comes to all things that serve natural justice.
"I am glad to be with a group of people that work to make a difference, speak out to say that things can change, and put my shoulder to the wheel of health access and reform."